Emergency State – What changes?
New restrictions applied from Monday November 9th onwards
Last Friday (06/11/2020), a limited State of Emergency was declared in 121 Portuguese municipalities in Portugal, where the number of new cases of coronavirus is highly increasing. 
In Algarve, only in São Brás de Alportel those measures are applied. 
Comparing this "second wave" in Portugal, and specially in Algarve, with the majority of the countries, we can see the numbers are not so high. It means also that we are learning to live and deal with this situation and it show us that it is possible to keep our lives with less restrictions if we follow the 3 step's rule:
Use mask in all closed environments and whenever social distance is impossible to keep;
Wash your hands regularly and don't touch your face/eyes/nose;
Keep the social distance.

 
Just to keep you informed, let's see what changes in the 121 municipalities in Portugal where State of Emergency is applied: 
The possibility of performing body temperature measurements by non-invasive means, in access to: work places, educational establishments, public transports, commercial, cultural and sports spaces.
The ban on driving on public roads between 11 pm and 5 am on weekdays and the next two weekends starting at 1 pm.
Working from home is mandatory unless really not possible.
Duty to remain at home, except for the group of trips previously authorized.
Events and celebrations with more than five people are prohibited, unless they belong to the same household.
Shops will close latest at 22h00, restaurants will close latest at 22h30.
Below you can see the map of the 121 municipalities where the State of Emergency is applied: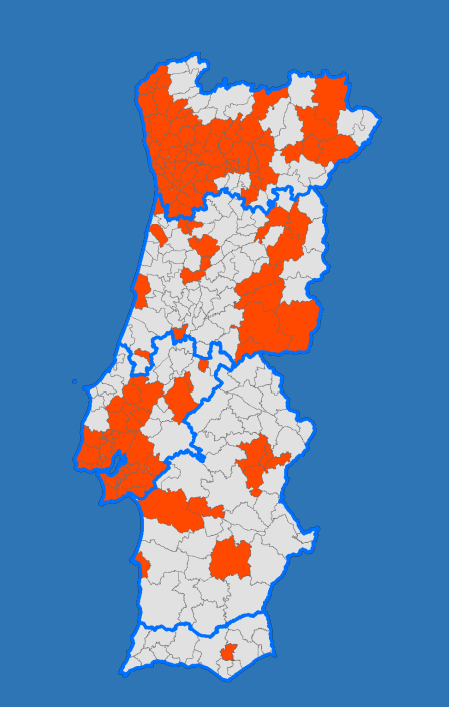 Source: https://www.dn.pt/edicao-do-dia/01-nov-2020/estado-de-emergencia-a-caminho-saiba-as-novas-medidas-e-os-concelhos-atingidos-12985735.html