Winter Rentals Algarve Casa-Dean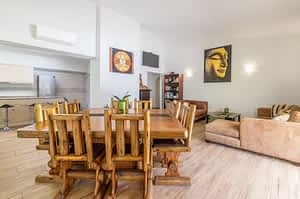 Welcome to Casa-Dean from our winter rentals Algarve selection.
If you are looking for winter rentals in the Algarve then Casa-Dean is a great choice this winter. It is an enormous property located in Lagos near to the Boa Vista Golf Course. If you want to have luxury combined with minimalism then this truly is the perfect place for you.
Location of Casa-Dean
Casa-Dean is located a short journey from the supermarket, the beach and even the town centre. It is only 700 meters from the main roads meaning that Faro airport, coastal areas and Lisbon are all easily accessible.
Characteristics of Casa-Dean
Casa-Dean has 4 bedrooms and each room has energy efficient air-conditioning units. There are also 3 en suite bathrooms and 1 private bathroom. It has a lounge and dining room with a satellite TV that is shown in almost all European languages. There is also a kitchen with all essentials and appliances including a dishwasher. Finally, there is a laundry room with a washing machine, tumble dryer and even an ice machine.
Outside of Casa-Dean
There is a large paved area that surrounds the heated swimming pool and there is an entertainment area perfect for use in the winter. Casa-Dean is situated only 160 meters from the Boavista Golf Course clubhouse and the driving range. Here you can access the golf course, driving range, tennis courts and swimming pool. There is a restaurant, bar and salon also available on the golf course. The golf course can be accessed directly using the gates of Casa-Dean, so this is perfect if Golfing is your hobby or passion.
Terms and Conditions
Bills are excluded
1 month rent up front
1 month deposit
Cleaning included twice a month