Winter Rentals Algarve Sea-La-Vie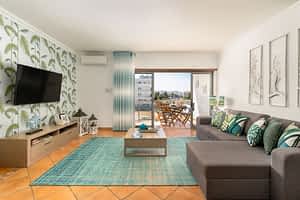 Welcome to Sea-La-Vie from our winter rentals Algarve selection.
If you are looking for winter rentals in the Algarve then Sea-La-Vie is a great choice this winter. It is an elegant property located in Lagos near to the Marina and Meia-Praia. If you want to have elegance combined with practicality then this truly is the perfect place for you.
Location of Sea-La-Vie
Sea-La-Vie is located a short journey from the supermarket, the beach and even the town centre. It is also only a short distance from the main roads meaning that Faro airport, coastal areas and Lisbon are all easily accessible.
Characteristics of Sea-La-Vie
Sea-La-Vie has 2 bedrooms and 1 bathroom designed and decorated by a professional. It has a lounge and dining room with a large TV ready to watch the most popular channels. There is also a kitchen with all essentials and appliances including a dishwasher. Finally, there is a laundry area with a washing machine and other essentials for living during the winter.
Outside of Sea-La-Vie
There is a large garage for parking your vehicle. Near to Sea-La-Vie is the beach and the marina, both are situated only 5 to 10 minutes walk from here. There is great access to the beach, the marina, supermarket and the town centre. Here are restaurants, bars and shops also available within a short distance. The beach can be accessed directly using the path that goes to Sea-La-Vie, so this is perfect if the you enjoy the beach or walks.
Terms and Conditions
Bills are excluded
1 month rent up front
1 month deposit
Cleaning twice a month
[elfsight_form_builder id="25″]